A bit of applesauce added to recipe makes for an especially moist muffin.
Ingredients:
2 medium eggs
3 cups flour
1 cup brown sugar
1 cup milk
1 cup pureed cooked pumpkin
½ cup unsweetened applesauce
2 tablespoons white sugar
4 teaspoons baking powder
1 teaspoon salt
1 teaspoon cinnamon
1 teaspoon nutmeg
1 teaspoon pumpkin pie spice
¼ teaspoon cloves
¼ teaspoon allspice
¼ teaspoon ginger
Directions:
Preheat oven to 325°F.

Combine all ingredients in a large bowl; mix until smooth.

Fill sprayed muffin tins with mixture until ¾ full. Bake 20 to 25 minutes, until a toothpick inserted in a muffin comes out clean.
Back to the Pumpkin Recipes home page.
Reviews and Comments:
Review by Joyce on September 9th, 2011:
Missing something - probably Baking Soda... Muffins are heavy like pound cake, not at all light and fluffy like a muffin should be.
Review by Colleen on September 12th, 2011:
Mine turned out moist and fluffy, very flavorful. I even used 1/3 whole wheat flour.
Review by Brenda on December 19th, 2011:
Mine turned out like more like Joyce's. Something is off in the flavor as well as the fluffiness.
Comment by Barb Kay on February 17th, 2012:
Made them today did up a double batch! I put in milk chocolate chips and didn't put in the last 3 spices and turned out absolutely great. I also switched one cup of milk for one cup of Cranberry Juice!
Review by Ruth on October 4th, 2012:
Fantastic!! Extremely moist and flavorful. More like a loaf consistency. Topped with cream cheese icing! Kids loved them.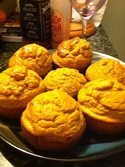 Review by Lucille on October 6th, 2012:
Love these! I also used 1/3 whole wheat flour-- only because I ran out of white-- and they still tasted delicious! I did not have allspice or pumpkin pie spice but I had ginger, cinnamon, nutmeg and cloves and it was great!
Review by Heather on February 5th, 2013:
Do you know what the carb count these would be? My daughter is type 1 diabetic and we have to count carbs.
Review by Ginny on July 10th, 2014:
I was disappointed with the texture. The muffins were heavy and dense.
Data:
Published: July 19, 2010
Average rating of
Summary: A bit of applesauce added to recipe makes for an especially moist muffin.